Placement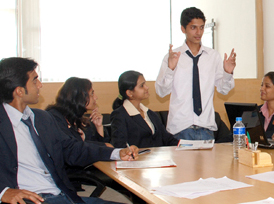 In professional institutions placement plays a pivotal role. The students want to make sure that they can be placed reasonably well on completion of the professional course. The management is well aware of the fact and takes all steps required for assisting the students in quality placement for student passing out from these institutions. Campus Visits of reputed organization are being regularly organized for inter action with the students (for ascertaining their employability) and conducting interviews.
For holistic growth and enhanced employability, personality development classes are being held regularly by qualified professionals. Appropriate & adequate modules are being adopted & taught for-over all growth of the student.
Our Recruiters





















Training
(i) Industry Visits
is essential for the students of Management for gaining requisite exposure for proper comprehension of the theoretical inputs being provided during class-room teaching. During every semester the students are sent for visits to different industries of repute.
(ii) Summer Training
cell takes special care to ensure that all students are placed in reputed industrial organizations where they get the chance to have real-life experience of operations being carried out. There is a huge scope of learning in every organization and exposure for 8/10 weeks during summer vacation in an organization enhances employability of the students. Such training provides the opportunity of employment of a student if the performance of an student can impress the management of the organization.